Eurozone retail sales fall for second consecutive month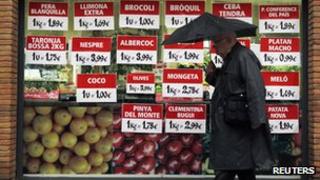 Retail sales across the eurozone have fallen for the second month in a row in March, according to the European Union statistics agency Eurostat.
The volume of sales fell 0.1% on the month, after a 0.2% drop in February.
The year-on-year reading showed a worse-than-expected 2.4% drop, underlining fears about the eurozone's economic growth in recent months.
Eurostat said that there was a fall in spending on items such as clothes and computers in the 17-nation euro bloc.
Last week the European Commission forecast that euro-area growth would shrink by 0.4% during 2013, down from 0.3% forecast in February.
The figures underline the bloc's struggle with record joblessness and limited economy growth.
According to the Eurostat data, Spain saw the biggest fall, with retail sales down 10.5% compared with the same month last year.
Weak consumer spending is a concern for the European Central Bank, which lowered its benchmark interest rate to a record low of 0.5% last week.
Unemployment across the eurozone is expected to hit an average of 12.2% this year.
There have been growing calls for countries to ease up on austerity measures, amid fears that stringent budget cuts are hindering growth.
On Monday, France's finance minister Pierre Moscovici said that the dogma of austerity was over.
He told French radio that a more "responsible attitude" to austerity budget cuts was now in place.