Lynas shares rise on Malaysian election results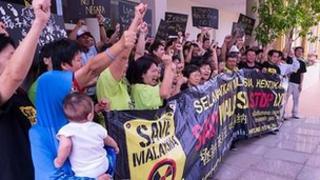 Shares in Lynas, which has a rare earth plant in Malaysia, surged 16% after the National Front coalition retained power in that country's general election.
Australia's Lynas has faced a long-drawn out legal battle against environmental activists in the country.
Opposition leader Anwar Ibrahim had said he would re-visit Lynas' permit for the operation if he won power.
Rare earths are metals used in many household products such as mobile phones and TVs.
Lynas's $800m (£502m) facility near the city of Kuantan, in Pahang state, is the largest outside China.
China controls more than 90% of the world's supply of rare earth metals. Beijing has been accused in the past of restricting their availability to make a diplomatic point.
There are 17 rare earths in total, such as lanthanum and cerium. They often have to be extracted from rocks which also contain the radioactive element thorium.
Environmental activists and local residents in Malaysia have voiced concern over the risk of radioactive waste produced from the processing plant.
Lynas says the facility will be safe, and in November 2012 a Malaysian court gave the company authorisation to start production at the plant after legal battles delayed operations.