Prison van ambush: Escaped prisoner arrested in Lancashire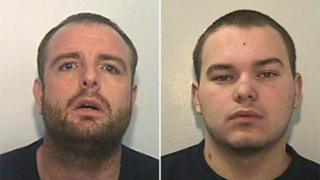 One of the two men who escaped from a prison van in Salford last week has been arrested.
Stevie McMullen, 31, from Salford, was arrested along with two other men suspected of helping him escape after police stopped a car in Lancashire.
Mr McMullen escaped on Tuesday when the van taking him from prison to court was rammed by a car and ambushed by armed men.
Ryan McDonald, 20, also from Salford, escaped with him and is still at large.
Police say he poses a "potential danger".
Mr McMullen was arrested on suspicion of evading lawful custody. The two other men, aged 27 and 25, were arrested on suspicion of assisting an offender.
Police stopped the car on the A6 in Lancashire, near to Lancaster University.
Before his escape, Mr McMullen was being transported from HMP Altcourse in Fazakerley, Merseyside to court to face charges of conspiracy to kidnap, conspiracy to commit robbery, conspiracy to commit arson, possession of a firearm, and other offences.
£10,000 reward
Mr McDonald was also in the van, travelling to face sentencing for conspiracy to commit robbery.
He has not been found yet, and Greater Manchester Police are continuing to search for him.
Assistant Chief Constable Steve Heywood said on Sunday: "On Friday, a £10,000 reward was put forward for information leading to the capture of these two men.
"This full £10,000 reward still stands for anyone who gives us information that leads to McDonald's arrest and will be paid when he is back behind bars.
"I would ask members of the public not to approach this man due to the potential danger he poses, but if you see him then please call the police immediately."
The 20-year-old was sentenced in his absence on Friday to seven years and 10 months in prison after previously pleading guilty to conspiracy to commit robbery following his role in a series of raids on pawnbrokers' shops.
He was convicted, along with two other men and a youth, after admitting to a conspiracy involving a pawnbrokers in Manchester and two more in Salford.
The offenders would approach the shops during the day, smash the windows and steal jewellery from the display.
Mr McMullen and Mr McDonald escaped when the prison van carrying them was rammed by a green Saab on a busy commuter road in Salford.
Three armed men in balaclavas then emerged from the van, carrying an axe, a sawn-off shotgun and a handgun, and forced the guards to free the prisoners.
None of the guards was hurt but the two men and their accomplices escaped.
A 24-year-old man and 28-year-old woman later arrested in Ordsall, Salford, in connection with the escape have been bailed by police until 26 June.