Insolvencies at new five-year low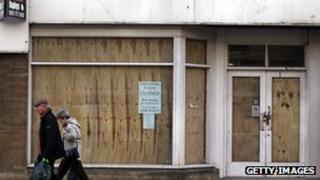 The number of people becoming insolvent has fallen to its lowest level for five years, according to government figures.
In the first quarter of 2013, 25,000 people in England and Wales were granted insolvency, a fall of 12.9% on the same quarter in 2012.
That is the lowest figure reported by the Insolvency Service since the beginning of 2008.
Company liquidations also continued to fall to levels last seen five years ago.
They were down by 15.8% in the first three months of 2013, as compared with the same period in 2012.
Official figures for Scotland suggest conditions there are improving even faster than in the rest of the UK.
Two weeks ago, it was announced that personal insolvencies in Scotland had fallen by 28%, while company insolvencies there are down by 22%.
Zombie businesses
It is not clear why the number of insolvencies has fallen so quickly when the economy is still struggling to grow.
"The latest figures continue to defy logic," said Matthew Chadwick of the accountancy firm BDO.
"The lowest level of personal insolvencies since 2008 is difficult to explain against a broader backdrop of limited job creation, heightened unemployment, raised inflation and low wage growth," he said.
But Charles Turner, president of the Insolvency Practitioners Association (IPA), believes the official figures underestimate the real situation.
"The figures released this morning do not in my opinion reflect the reality of life for a great number of consumers who are undoubtedly struggling, as wage growth flat-lines and their household costs continue to increase," he said.
He maintains that debt management plans, which are not included in the figures, have grown significantly. They are a more informal process of managing debt, and can be a more cost-effective route for some people.
"The harsh reality is that many people are still struggling on, trying to make ends meet," he said.
There has been some concern about so-called "zombie companies," businesses which are on the verge of bankruptcy, but which are kept going thanks to low interest rates.
But some experts believe matters may now not be as bad as feared.
"It was always assumed that there would be a surge in insolvencies when the zombies inevitably fell off the cliff," said Nick O'Reilly of the accountancy firm HW Fisher.
"But that sense of inevitability is lifting - consumer confidence is up markedly on this time last year, even if inflation is gnawing away at people's purchasing power."