France 'to enter recession' as eurozone growth slows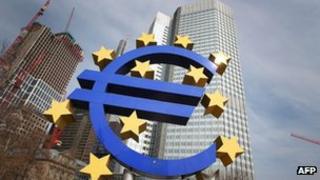 The eurozone economy will shrink more than expected this year with France sliding into recession, according to a gloomy European Commission report.
The Commission forecast says euro-area growth will shrink by 0.4% this year, down from 0.3% forecast in February.
France will go into recession this year with negative growth of 0.1% and unemployment rising to 10.9% in 2014 from 10.6% this year.
On Thursday, the European Central Bank cut interest rates on growth worries.
"Grappling with the aftermath of a profound financial and economic crisis, the EU economy is set to pick up speed only very slowly in the course of this year," the report said.
It predicted that France's deficit would rise sharply from 3.9% of GDP this year to 4.2% in 2014. That prompted the EU's commissioner for economic affairs, Olli Rehn, on Friday to say it would be "reasonable" to give France two extra years to meet the EU deficit target of 3%.
However, Reuters reported a French finance ministry official as saying that, despite Mr Rehn's comments, the country would stick to its aim of meeting the 3% target in 2014.
'Jobless crisis'
Unemployment across the eurozone is expected to hit an average of 12.2%, up from 11.4% in 2012. In both Greece and Spain, it is expected to peak at 27%.
Mr Rehn said that "in view of the protracted recession, we must do whatever it takes to overcome the unemployment crisis". But he added that eurozone GDP could rise by 1.2% in 2014.
There have been growing calls for countries to ease up on austerity measures, amid fears that stringent budget cuts are hindering growth.
On Thursday, the ECB lowered its benchmark interest rate to a new record low of 0.5% from 0.75%, the first cut in 10 months.