India cuts interest rates for third time this year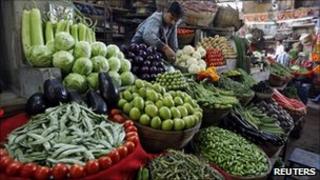 India has cut interest rates for the third time this year in an attempt to revive growth in its sluggish economy.
The Reserve Bank of India (RBI) lowered its key rate to 7.25% from 7.5%.
India's growth rate has dipped, amid a slowdown in key sectors such as manufacturing, prompting the government to lower growth forecasts.
As a result, the central bank has been under pressure to take steps to help stimulate a fresh wave of economic growth in Asia's third-largest economy.
However, the bank - which has taken some measures in recent months - said that there was limited room for it to ease its policies further.
It said that high consumer price growth continued to remain a key threat and that it "cannot afford to lower its guard against the possibility of resurgence of inflation pressures".
"The balance of risks stemming from the Reserve Bank's assessment of the growth-inflation dynamic yields little space for further monetary easing," the RBI said in its monetary policy statement.
'Policy efforts'
Earlier this year, India lowered its growth forecast to 5% for the year to 31 March 2013, underlining the challenges it faces in reviving the sluggish economy.
There have been concerns that its growth rate may slow further, not least because of a delay in key reforms, which have hurt foreign investment.
The central bank argued that while it had lowered interest rates, the government also needed to take adequate steps to help boost confidence in the economy as well.
"Without policy efforts to unlock the tightening supply constraints and bring enduring improvements in productivity and competitiveness, growth could weaken even further and inflationary strains could re-emerge," it warned.
Analysts said the central bank's statement suggested that it was unlikely to take further steps until the government itself acted.
"The central bank is unlikely to embark on an aggressive easing cycle if they are not convinced that the structural constraints have been addressed," said Radhika Rao, economist at DBS bank.
"Some sacrifice by way of slower growth seems inevitable then."