Bank of Canada names Stephen Poloz as new governor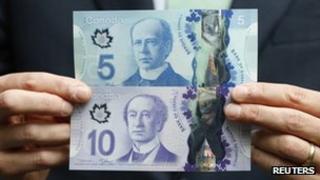 The Bank of Canada has named long-term bureaucrat and economist Stephen Poloz as its new head, replacing Mark Carney who is going to run the Bank of England.
Mr Poloz was a surprise choice as many observers expected Mr Carney's senior deputy, Tiff Macklem, to succeed him.
His previous post was as chief executive of Canada's export credit agency.
He has worked in Canada's public service for 25 years.
Mr Poloz will take up his post, which runs for seven years, next month.
David Laidley, chair of the bank's search committee said in a statement: "Mr Poloz has significant knowledge of financial markets and monetary policy issues and extensive management experience.
"We are confident Mr Poloz will make an outstanding contribution to the work of the bank and uphold its reputation as a leading central bank."
Carlos Leitao, chief economist at Laurentian Bank, said it was a good, if somewhat unexpected choice: "Surprised, yes. Shocked, I wouldn't say so.
"Certainly Mr Poloz is a well known economist. He was on everybody's list as a possible alternative to Tiff Macklem. Now he's the man.
"Mr Poloz is a good economist. He's spent a lot of time at the Bank of Canada as well. He was also somewhat of an insider."
Unlike other major central banks, including the Bank of England and the US Federal Reserve, the Bank of Canada's six-member governing council makes its decisions by consensus rather than votes and present verdicts as a common decision, thereby avoiding being labelled hard or soft on policy.