Market for feature phone apps is low-tech goldmine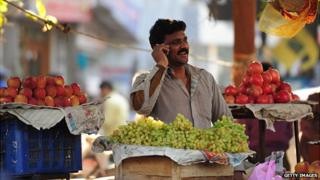 The next time you are standing at a bus stop, cursing the late-running service, spare a thought for Milind Dahikar.
This Mumbai resident is probably enduring more extreme weather conditions than you, and there's a chance the road his bus should be on might not even be there.
His city's streets change constantly with new construction, while the traffic is notoriously unpredictable (the population of more than 20 million puts it on a par with all of Australia).
"My house is nearly 15 minutes away from the bus stop - I have to take an auto rickshaw - and I have to time it carefully to get to the bus stop just in time," says Mr Dahikar.
"Often, I would arrive too early, especially during the monsoons when the buses regularly got delayed, or too late, and have to stand in the summer heat or heavy rains waiting for a bus or looking for alternate means of transport."
Running late
In the West, you might deploy a bus tracking app on your smartphone to inform you when that errant bus will arrive.
But in India the mobile infrastructure is less developed.
Even if it were available, many people don't have smartphones to take advantage of such apps.
To help rain-drenched and sun-parched staff such as Mr Dahikar, his employer, the IT outsourcing provider Mastek, came up with a solution.
"For our employees, the buses that we deploy to collect them and take them to work are a great asset, and our bus management mobile application, a simple and cheap GPS-enabled mobile device, is placed on the dashboard of each bus," says Steve Latchem, vice-president of solutions and strategy.
"Our server polls this device for the exact location of the bus at all times and then provides this data to our mobile app.
"For those with basic handsets, an SMS service is provided that texts them when the bus is 15, 10 and five minutes away."
Feature phones
Feature phones, which perhaps boast basic forms of GPS, camera, MP3 player and some kind of internet access, as well as the ability to run simple apps, have become increasingly popular in the developing world.
They occupy the middle ground between basic phones that simply make, and receive calls and text messages, and smartphones.
Many Westerners might turn their nose up at such things, but they are often cheap, hardy and tend to have exceptional battery life.
In short, they can be perfect for people in emerging economies.
Research firm Gartner estimates worldwide feature phone sales totalled 264.4 million units in the fourth quarter of 2012, easily outstripping smartphone sales of 207.7 million.
Such massive markets, because of the nature and sophistication of the target devices, would appear in theory to be quick and easy to exploit.
"Because of the comparative dearth of apps aimed at this market, there is a better chance of receiving attention," says Paul Roberts, founder of ForgetMeNot Africa.
The company has created a platform that allows users of basic and feature phones to update their Facebook accounts, send and receive email and chat over the internet, using either SMS or via an app.
So why do feature phone holders seem to be ignored by many developers?
"Because we work in technology we naturally get excited by what's new and your clients do too. That's our world," says Ashley Bolser, director of mobile app development firm Bolser.
"We often forget that there is this huge group of people who want to look at the internet and download, and the only access they have to that is through their feature phone."
So rather than work out ways to create apps that offer an ever-richer and interactive experience, Bolser has been working hard on doing just the opposite.
Back to basics
The key, Mr Bolser maintains, is to keep a focus on simplicity, accessibility and usability.
The company recently created a feature phone version of the BBC's Top Gear news app, which was particularly successful in south-east Asia.
"What we did with this was simplify a lot of the data that came from the BBC," he says.
"We made sure any photography worked on the phones. You can't have hi-definition.
"We removed the video and generally made the way you look at it - the interface - really simple."
Outsmarted
There are a couple of tough issues for those offering apps and other services through feature phones.
The first is getting people to realise they exist.
"There can be limited opportunities for uptake if they are not promoted by the network fully," says Mr Roberts.
"They can be viewed as less than sexy so may not receive the promotion required."
Then companies need to work out how to actually get them onto the phone.
"The problem is that app stores tend to require credit or debit cards for setting up app purchases," says Rob Hodges, of e2Save, part of Carphone Warehouse.
If your customers don't have these, you have a major problem.
The recent Upstream Emerging Markets Mobile Attitudes Report, a poll of 3,500 consumers in Nigeria, India, Saudi Arabia and Brazil, showed just 29% wanted to pay by card.
The biggest chunk - 42% - asked to be billed via their operator.
Some asked for bank transfer and secure payment services, while 8% didn't seem to know.
Mr Hodges says efforts are being made to address this, highlighting Telefonica's deal with Bango, which aims to deliver mobile payments to 314 million app buyers by letting them pay through their phone bills.
Smart tactics
According to International Data Corporation's (IDC) Worldwide Quarterly Mobile Phone Tracker, released in March, 2013 will mark the first time vendors ship more smartphones than feature phones.
IDC estimates 918.6 million smartphones will be shipped this year - 50.1% of the global total of mobiles.
This raises the question of whether companies that have ignored feature phones are safe to continue doing so as smartphones proliferate.
But to think this is to misunderstand the mobile market place, according to Jon Hoehler, manager of mobile technologies at Deloitte Digital South Africa.
"The key is to look at the installed base of devices - actually devices in hand - rather than the sale of new devices," he says.
"In many emerging markets, handsets are reused, resold or passed down through the family."
We are in an era of developers obsessing over "bigger, better, faster, more" when it comes to mobile phone apps.
You wonder whether "small, simpler, slower, less" might be an equally good mantra.