Royal Dutch Shell chief executive Peter Voser to retire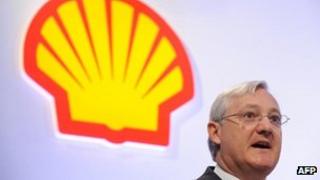 Royal Dutch Shell has announced that its chief executive will step down in the first half of 2014.
Peter Voser, 54, said he wanted to spend more time with his family and that he was leaving for a "change in lifestyle".
Mr Voser was appointed chief executive in July 2009 and has been an executive director since 2004.
The news came as Shell reported first quarter profits of $7.95bn (£5.1bn), up 3.5% from last year.
"After such an exciting executive career I feel it is time for a change in my lifestyle and I am looking forward to having more time available for my family and private life in the years to come," Mr Voser said in a statement on Thursday.
A Shell spokeswoman said the company would seek internal and external candidates for his replacement.
Growth projects
The revelation came as a surprise for investors. Mr Voser is widely credited for turning around the company and transforming it into a leading provider of liquefied natural gas, which now makes up about half of Shell's business.
Commenting on the first quarter results, Mr Voser said: "These results were underpinned by Shell's growth projects, an improvement in downstream profitability, and were delivered despite a difficult security environment in Nigeria."
But he warned that the industry continued to see "significant" energy price volatility due to economic and political turmoil. Revenue was down to $112.8bn in the January-March period from $119.92bn last year.
Shell said total oil and gas production grew to 3.559 million barrels of oil equivalent per day in the first quarter, from 3.552 million in the same period in 2012.
It also said it would increase its first quarter 2013 dividend to $0.45 per ordinary share, up 5% from last year.
"Shell has emulated its rivals in beating expectations for the quarter, although investors are well aware that this is only part of a long game strategy," commented Richard Hunter, head of equities at Hargreaves Lansdown Stockbrokers.
"The volatility of the oil price is a factor which Shell is trying to mitigate over a period of time, whilst the search for a replacement CEO will be an unwelcome distraction.
"Even so, the company remains committed to selective acquisitions, non-core asset sales where appropriate and an extensive project plan which currently numbers 30 in an effort to underpin future production across several energy sources," he added.
Shell has announced investments in a number of projects including a deep-water project in Nigeria and an oil recovery project in Oman. It also agreed to purchase part of Repsol's liquefied natural gas portfolio outside North America. In the UK, it increased its majority stake in the offshore Schiehallion oilfield west of the Shetland Islands.
Earlier this week, it was announced that Shell had beaten France's Total to a £10bn deal to develop the Bab gas field with the Abu Dhabi National Oil Company (ADNOC).
Statoil profits down
Shell's first quarter results were also boosted by proceeds from asset sales, which included sales in its pipeline business in the United States, its liquefied petroleum gas (LPG) venture in Vietnam and the majority of Shell's shareholding in its downstream business in Uganda.
Downstream activities generally refer to the refining of crude oil and distributing its by-products including gasoline, natural gas, LPG and diesel.
Shell's better-than-expected results compared with a 60% plunge in first-quarter profits for Norwegian rival Statoil because of production cuts and operational disruptions after its plant in Algeria was attacked in January.
Net income in the January to March period was 6.4bn kroner ($1.1bn, £0.7bn), down from 15.4bn kroner a year earlier. Revenue also fell in the quarter by 17% to 162bn kroner.