Iata: Air travel rises by 5.9% worldwide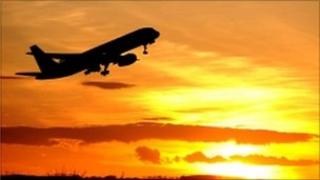 The International Air Transport Association (Iata) says air passenger travel grew by 5.9% in March compared with a year earlier, boosted by emerging markets.
Iata's director general, Tony Tyler, said regions such as Latin America, the Middle East and China had shown a "robust expansion".
However, developed markets were seeing "relatively little growth".
Iata represents 240 airlines accounting for more than 80% of global traffic.
Mr Tyler said in a statement: "Strong demand for air travel is consistent with improving business conditions. Performance, however, has been uneven.
"Mature markets are seeing relatively little growth, while emerging markets continue to show a robust expansion."
Mr Tyler also called on governments to avoid "placing roadblocks to recovery".
He said US budget cuts caused by the fiscal cliff and other economic wrangles could have imposed flight delays and cancellations on travellers, causing "real damage to the economy".
"Fortunately Congress and the [Barack] Obama administration put aside partisan political disputes for the good of the economy," he added.
"But aviation is far too important to be treated as a bargaining chip in political disputes in the first instance. Let's hope that lesson is well learned."