GM withdraws 'offensive' Chevrolet Trax ad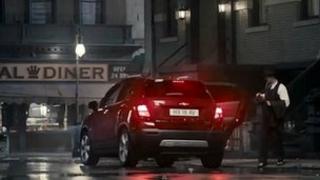 Carmaker General Motors (GM) says it is withdrawing a TV commercial for its Chevrolet Trax four-wheel drive after its soundtrack was deemed "offensive".
The ad features vocals from a 1938 recording which refers to China as "the land of Fu Manchu" where people say "ching ching, chop suey".
It had been running on Canadian TV since early April and was also posted on Chevrolet's European website.
The lyrics have now been removed from the advert, which has been reissued.
GM Canada's communications director, Faye Roberts, said the commercial had generated "some negative feedback regarding the lyrics".
"Once the issue was called to our attention, GM immediately removed the offensive content from the commercial," she told the South China Morning Post.
"It is never our intention to offend the audience."
The TV ad, which has a nostalgic 1930s-style look, uses a piece of dance music, Booty Swing by Parov Stelar. The song samples an earlier jazz-era tune, Oriental Swing by Lil Armstrong and her Swing Orchestra.
The Trax is in the process of being launched in various markets worldwide, with the exception of the US. It is already on sale in South Korea and will soon be made available in Europe and Canada.