Eastman Kodak unveils post-bankruptcy plan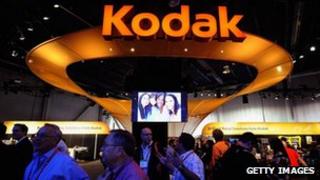 Eastman Kodak has said it expects to exit bankruptcy as early as July in its new guise as a commercial imaging firm.
Kodak, which used to be synonymous with photography, secured a deal on Tuesday to sell its film and printing businesses to its UK pension fund for £419m ($650m).
Now it intends to reinvent itself by focusing on selling printing equipment and services to businesses.
The plan still needs approval from creditors and the US bankruptcy court.
Details of the new strategy were revealed in documents filed with the court in New York.
Eastman Kodak said it expected to issue new stock and appoint a new board, adding that new directors would be appointed later.
The court is likely to consider Kodak's plans at a hearing in June. If the strategy is approved, it will be subject to a vote by creditors.
Eastman Kodak was founded in New York in 1892 and pioneered the use of film in cameras.
But it filed for bankruptcy protection in January 2012 after falling behind in the race to produce digital photographic equipment.