Ofgem to investigate missed energy efficiency targets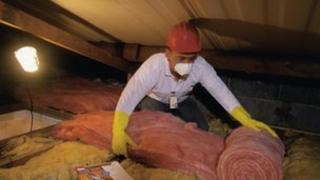 Ofgem says it will open investigations into six UK energy companies for failing to meet government energy efficiency targets.
The energy regulator said companies had met 99% of targets by the end of 2012, but it would be investigating the missed 1%.
The six companies are British Gas, Drax, GDF Suez/IPM, Intergen, Scottish Power and SSE.
The targets involve providing energy saving measures to households.
They were set by the Department of Energy and Climate Change in 2008, requiring energy firms to provide loft and wall insulation, replace old, inefficient boilers, and target measures at vulnerable customers in deprived areas of the UK.
Ofgem said two separate schemes ensured that more than 3.9 million lofts and 2.5 million cavity walls were insulated, and 150,000 vulnerable households received at least one energy efficiency measure by the end of 2012.
But Sarah Harrison, Ofgem's senior partner in charge of enforcement, said the regulator could not overlook the six firms who had missed one or more of their targets.
"The fact that the industry has delivered 99% of its government energy efficiency targets is to be welcomed. However, Ofgem's role is to ensure that consumers do not lose out by the failure of firms to deliver all the help required or are not disadvantaged by late delivery," she said.