Ford announces entry into Burma market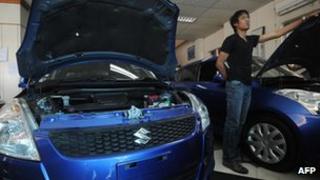 US carmaker Ford has become the latest foreign company to announce plans to enter Burma, after investment sanctions against the country were suspended.
Ford has signed a deal with Burmese conglomerate Capital Diamond Star Group to open a showroom in Yangon.
Various countries suspended their sanctions against Burma last year as it introduced democratic reforms.
Foreign firms have been keen to tap into the Burmese market, un-serviced for years in wake of the sanctions.
Ford said it would offer a range of cars and trucks across various vehicles segments in Burma, which is also known as Myanmar.
"We see tremendous potential and opportunity for Ford in Myanmar, and we're looking forward to serving customers in this exciting market," said David Westerman, regional manager, Asia Pacific, Ford Export & Growth Operations.
"We're also committed to making meaningful contributions and investments that will support the country's ongoing economic and social development."
'Invest in people'
Burma's economic isolation over the years has meant that a large part of its labour force has not been able to upgrade its skills.
Ford said that its investment in the country will not only help create jobs, but will also provide an opportunity for locals to get trained.
"Part of Ford's core values as a company is to invest in the places where we do business - to invest in people, in their careers and in the local communities," said Mr Westerman.
"It's both an honour and our responsibility to train and develop a skilled workforce, and quite literally, to help shape the future of Myanmar's automotive market."
The carmaker said that it plans to expand its presence in other parts of the country once its business starts to grow.
Earlier this year, Japanese carmaker Suzuki said that it would start manufacturing small trucks in Burma from May.
Earlier this month, the two biggest telecommunications companies in the world - Vodafone and China Mobile - created a consortium to bid for mobile licences in Burma.
Last year, Coca Cola announced that it would resume business in the country after a 60-year absence.