Flexible working: How to ask the boss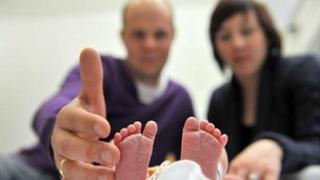 A decade ago flexible working was considered a perk. Since then many businesses have woken up to the fact that they can keep talented staff by offering a flexible approach to work.
It is also the case that a healthy work-life balance contributes to business success and growth.
Flexible working arrangements can vary. They may include working compressed or reduced hours, flexi time and working part time, as well as job sharing or home working.
The latest Workplace Employment Relations Study tells us that the most common form of flexible working is flexi time - when staff do not work traditional hours. This was used by 30% of the survey participants.
New rules
Under the current rules, parents of children aged 16 or under, or of disabled children under the age of 18, have the right to ask their employer to work more flexibly and the employer has to reasonably consider all requests.
Some employees who have caring responsibilities for adults also have a right request to work flexibly.
From April 2014, this right to request flexible working will be extended to cover all employees who have been with their employer for 26 weeks or more, widening the pool of people who could request to change their working pattern.
For example, it will cover those wanting to work flexibly alongside a further education course or other studies to improve their qualifications. It might also help older workers who wish to combine working with helping to care for grandchildren or simply spend time on activities outside work.
Checklist
There are a number of things you need to think about when making a request for flexible working, as it is up to you to make the best possible case to your employer.
Staff can only make one application within a 12-month period, so they should present a clear argument which includes the benefits for the business.
Tips from Acas include:
Putting the request in writing
Being as specific as possible, by including proposed changes to hours, times or place of work
Consider how a change would affect your role, the jobs of your team or colleagues, and the impact on the business
Talk through a request with your employer
If the request is refused, consider whether the request was considered fairly and whether you presented all of the most important information
Those whose request is turned down may have the right of appeal. Anyone who wishes to do so must be clear of the process and so will need to talk to their employer or human resources department.
Timetable
If you are an employer hearing a flexible working request, then you must be open-minded.
We believe it is best to start from a presumption that you are going to approve the request. You might be surprised when you think through what greater flexibility can offer you and your employee.
Employers should act reasonably by arranging to meet the employee to discuss the request as soon as possible, and allow them to bring a colleague with them.
Decisions must be based on business-related reasons. The conclusion should be explained in writing as quickly as possible, with any reasons for refusal made clear.
Arrangements should be made for an appeal, if the employee believes that the request was not handled fairly, or some facts of the application were not outlined. Employers should be careful not to discriminate unlawfully when coming to a decision.
The whole process should be completed within three months of a request, unless both parties agree to take longer.
At Acas, our experience of working with thousands of employers shows us that staff are much more likely to go the extra mile for an employer who can accommodate their needs. That goes a long way in motivating staff and boosting productivity.
The opinions expressed are those of the author and are not held by the BBC unless specifically stated. The material is for general information only and does not constitute investment, tax, legal or other form of advice. You should not rely on this information to make (or refrain from making) any decisions. Links to external sites are for information only and do not constitute endorsement. Always obtain independent professional advice for your own particular situation.