Lloyds to sell Spanish retail division to Sabadell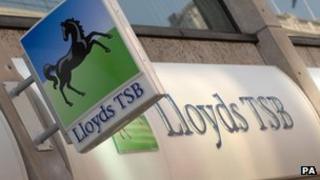 Lloyds Banking Group has agreed to sell its Spanish retail banking business to Banco Sabadell in exchange for a 1.8% stake in the Spanish bank.
Lloyds said that the stake - which it will hold for at least two years - was worth about 84m euros ($110m; £72m).
The Spanish business made a £43m loss last year. Lloyds said it would make a £250m loss as a result of the sale.
The deal includes the transfer of £1.5bn of assets, mainly retail mortgages and deposits.
However, Lloyds said its corporate banking division was excluded from the sale.
Banco Sabadell could pay a further £17m over the next five years, dependent on the profitability of the mortgage business.
Lloyds said the deal was part of its strategy to reduce its international presence.
On Tuesday, the bank is set to issue its results for the first quarter of the year.
Lloyds, which the UK government has a 39% stake in, was dealt a blow last week when the Co-operative Group pulled out of a deal to buy more than 600 branches from the bank.
Lloyds said it would now seek to sell the branches as a stand-alone bank through a stock market listing.
The sale of the branches, known as Project Verde, was demanded by European regulators as the price for being bailed out by the UK government during the financial crisis.