Bank of Japan lifts economic forecasts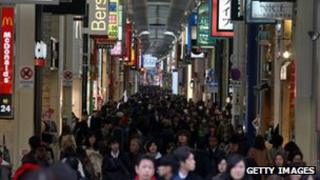 The Bank of Japan (BoJ) has raised its forecast for both economic growth and inflation this year in its twice yearly report.
The BoJ now estimates growth for the year from March to March of 2.9%, up from its previous forecast of 2.3%.
Of equal interest was its forecast for inflation, which it lifted to 0.7% from 0.4%.
Deflation has been one of the biggest bugbears for Japanese policy makers as it holds back consumer spending.
The bank said: "Japan's economy has stopped weakening and has shown some signs of picking up."
It said it was expecting an increase in demand ahead of tax increases which will double sales taxes to 10% by 2015.
Japan, the world's third-largest economy, has the developed the worst debt-to-GDP ratio.
Earlier this month the BoJ announced the latest in a series of massive stimulus boosts, aimed at lifting the country out of a decades long economic doldrums.
Before the announcement, the scale of the task of reflating Japan was underlined by inflation data, showing prices fell by 0.5% between March 2012 and March 2013.