Manchester United star Robin van Persie joins BT Sport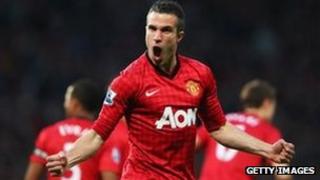 BT Sport has signed Manchester United's Robin van Persie to be the face of its advertising campaign for its live Premier League broadcasts.
Last summer BT won the rights to broadcast 38 matches a season from 2013-14 to 2015-16.
It has also been buying up other sporting rights, including English Premiership Rugby, as it competes with Sky for the armchair sports fan.
Last month Spurs player Gareth Bale was signed for the BT marketing campaign.
BT Sport has also secured the rights to live top tier matches from Serie A in Italy, Ligue 1 in France, the Brasileiro in Brazil and Major League Soccer in the US.
In addition, BT's acquisition of ESPN's TV channels business in the UK and Ireland in February of this year will bring the rights to show live games for the FA Cup, Scottish Premier League, Europa League and the German Bundesliga.
Van Persie will now star in television adverts, billboard hoardings and other marketing BT Sport schemes.
The Dutchman scored a hat-trick on Monday night in United's 3-0 home win over Aston Villa, a victory which clinched the Old Trafford c;lub's 20th league title.
Simon Green, head of BT Sport, said: "I am absolutely delighted that we have signed a star of Robin's calibre to be in our advertising."