Dreamliner: Japan lifts Boeing 787 ban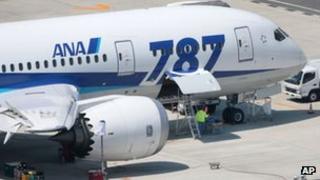 Japan's airline authority has followed the US regulator in clearing Boeing's troubled 787 Dreamliner to fly again once batteries are replaced.
All Nippon Airways said it would begin test flights of its 787s on Sunday.
The carrier, along with Japan Airlines, discovered problems with the batteries, leading to all 787s in service worldwide being grounded in January.
Japanese airlines have so far been the biggest customers for the new-generation Dreamliner aircraft.
On Thursday, the US Federal Aviation Administration issued a formal "air worthiness" directive allowing revamped 787s to fly.
The FAA gave Boeing the go-ahead to replace the old battery systems, which developed fires on two aircraft, with a new design last week.
"We have reached a conclusion that there is no problem with the judgment by the FAA,'' Japan's transport minister Akihiro Ohta told reporters. "We believe all possible safety measures would be taken to prevent recurrence of similar problems."
However, despite investigations by Boeing and the US National Transportation Safety Board, it remains unclear exactly what caused the fires.
Boeing is expected to complete repairs on all 50 of the grounded Dreamliners by the middle of May.
Boeing has not yet disclosed how much the whole 787 saga will cost. The FAA said the cost of repairing the six planes operated by United Airlines alone would be about $2.8m (£1.8m).
The groundings have led to hundreds of cancelled flights, and a loss of revenue for airlines that may yet involve claims against Boeing for compensation.