Amazon sales rise but profits fall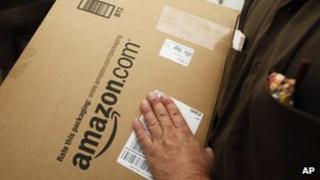 Online retailer Amazon saw a fall in profits but rising sales in the first three months of the year.
The company, which is the world's biggest online retailer by sales, recorded a net income of $82m (£53m) for the quarter, down 37% on last year.
Analysts said its aggressive expansion plans and investment in new products had hit profits.
But sales of digital content helped boost revenues for the quarter by 22% to more than $16bn.
Its gross profit margin - a closely-watched measure by investors - also increased to 26.6%, from 24% a year ago.
In recent months, Amazon has been investing heavily in building new warehouses to improve delivery times, as well as launching new products such as its Kindle range and online film and video content.
Analysts say its strategy is to ensure longer-term success at the cost of short-term profits.