French unemployment at new high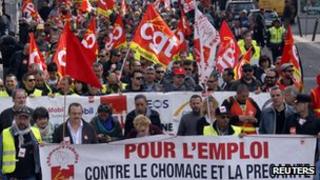 The number of unemployed people in France rose to a fresh high last month, official data shows.
There are now some 3.2 million people seeking work in France, 11.5% more than a year ago and 1.2% more than in February, the labour ministry said.
The number of jobseekers is the highest since records began in January 1996.
The ministry does not express the jobseeker figure as a percentage of the work force, as done by the International Labour Organization.
But it did say the unemployment rate was 10.2% at the end of 2012, and current unemployment had not breached the 10.7% high seen in 1997.
Speaking earlier during a state visit to China, French President Francois Hollande said the government's priority was tackling France's rising unemployment.
"Everything the government does, in every ministry, must be to continue to strengthen the battle for jobs," he told a news conference.
"I want all the French people to unite behind this one national priority."
He has promised to reverse the rise in unemployment before the end of the year.
The figures underline the grave economic problems still haunting eurozone economies, after Spain earlier reported record unemployment amid its continuing recession.