Santander bank profits fall 26% to 1.2bn euros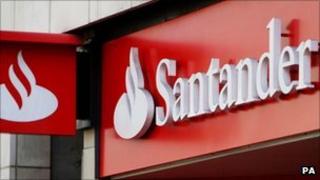 The eurozone's biggest bank, Santander, suffered a 25.9% fall in profits for the first three months of the year.
The Spanish bank said net profits for the quarter were 1.2bn euros (£1bn), down from 1.6bn euros a year earlier.
Santander, which makes about 50% of profits in Latin America, said UK pre-tax profits fell to £282m, from £363m.
The company said the the group figures represented a "return to normality" after heavy provisions taken in previous quarters.
Ana Botin, chief executive of the UK operation, said the UK economy "remains subdued" but there should be "greater stability in our operating environment" in the future.
The UK business saw the amount of customer loans during the quarter fall from £204m to £192.4m. Deposits rose to £151m, up from £149.4m.
Santander said total group net interest income, the profit margin on its loans, fell 6.3% from the fourth quarter and was down 14.3% from a year ago as a result of low interest rates and recessions in key markets.