Etihad Airways to take 24% stake in India's Jet Airways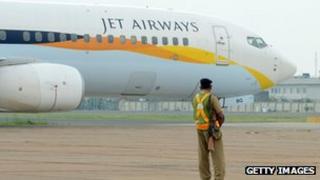 Etihad Airways is to take a 24% stake in India's budget carrier, Jet Airways.
The $379m (£248m) deal is the first foreign investment in an Indian airline since ownership restrictions in the sector were eased last year.
Jet, which has struggled of late, will get a boost from Eithad, which is based in the United Arab Emirates.
Etihad Airways is paying a premium of 32% on Jet's closing share price on Tuesday.
The deal is still subject to shareholder approval.
Etihad, which was set up 10 years ago, is keen to build alliances by taking stakes in airlines around the world. Last year, it bought 4% of Virgin Australia.
Even though passenger numbers and routes have increased rapidly in India in recent years, labour strife and mismanagement remain hurdles to profit growth. The only airline that consistently makes a profit in the domestic market is Indigo.
The Indian government eased restrictions on foreign ownership of companies in several sectors, including aviation, last year, in an effort to give support to the country's slowing economy.