Daimler and Volkswagen profits hit by sales falls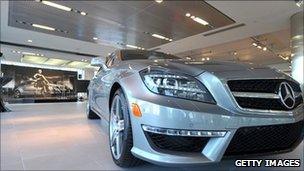 Daimler and Volkswagen have posted falls in first-quarter profits, hit by a continuing slump European car sales.
Daimler warned that profits this year will be lower than last year's, after a 60% fall in earnings to 564m euros ($733m; £480m) for the three months.
Meanwhile, Volkswagen saw profits fall 38% to 1.95bn euros in the January-March period.
Sales in Europe for all carmakers fell 9.8% in March, the 18th drop in a row, with little signs of a turnaround.
Daimler's revenue fell 3% to 26.1bn euros ($34bn, £22bn), with chief executive Dieter Zetsche saying that "many markets developed worse than expected".
Daimler said that it expected 2013 earnings before interest and tax (EBIT) from continued operations to be below last year's 8.125bn euros, a level it had previously aimed to reach again this year.
Daimler aims for its Mercedes brand to overtake BMW and VW's Audi as the world's biggest selling luxury carmaker by 2020.
But its sales continued to lag its two rivals in China, a market seen as key if Daimler is to achieve its growth ambitions.
VW-subsidiary Audi's sales in China rose 30% last year to 405,838 cars, while BMW's surged 40% to 326,444. Daimler's sales rose just 4% to 206,150 cars.
Stuttgart-based Daimler said on Wednesday that it expected the US and Chinese markets to grow but warned that European car sales would fall further this year.
The company said "the German market cannot detach itself from this development and is expected to fall significantly short of the previous year's level".
Daimler also said the market for trucks would fall 5% due to the slow economy.
Volkswagen faired better in the first three months of 2013, but warned of the "negative effects" of the slowdown in European markets.
The company said that it was bracing itself for "increasingly stiff competition in a challenging market environment".
"We're not completely immune to the intense competition and the impact this has on business," it said.
Revenue was down 1.6% to 46.57bn euros, from 47.33bn euros.