Barclays first quarter profits fall 25%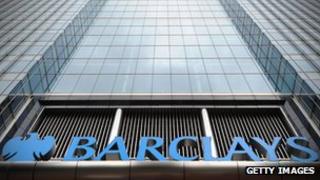 Barclays adjusted first quarter profits have fallen 25% to £1.8bn, partly due to the bank's restructuring programme.
The bank is transforming itself into what it calls a "Go-To" bank.
Barclays has come in for much criticism in recent years, following a series of scandals.
Barclays' Chief Executive, Antony Jenkins said: "In our goal to become the 'Go-To' bank we have not chosen an easy path for Barclays, but we have chosen the right one."
The profits were hit by a charge of £514m to cover the bank's "Project Transform", a plan to axe 3,700 jobs, cut back its investment banking arm and generally overhaul the bank's culture.
Barclays expects to make a further £500m charge later this year.
Mr Jenkins is trying to revamp the image of Britain's third-largest bank, after the aggressive culture of former Barclays boss, Bob Diamond, culminated in a £290m fine for rigging Libor rates.
Good start
Barclays statutory pre-tax profits for the first three months to the end of March were £1.5bn, prompting the bank to say it had had a good start to the year.
That compares to a loss in the same quarter last year of £525m.
Barclays the return to this "statutory" profit is due to a significantly lower own credit charge of £251m, compared with one of £2.6bn in the first quarter of last year.
The own credit charge is a valuation that banks are required to carry out. They book losses when the value of their debt rises, and gains when it declines.
While Barclays is looking to trim its investment banking arm, the division saw an 11% rise in profits to £1.3bn, accounting for three quarters of the group's overall profits.
Following the earnings announcement, Barclays shares fell, eventually closing down more than 1.2%.