HSBC bank cutting 3,166 UK jobs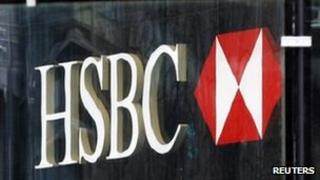 HSBC is cutting 3,166 UK jobs as it continues efforts to reduce costs.
The bank said the positions would mostly go from its wealth management division, but that it hoped to redeploy more than 2,000 of the affected staff.
The cuts are part of HSBC's continuing three-year cost-cutting plan, and follows the loss of 2,200 jobs in 2012.
HSBC, which is Europe's biggest bank, currently employs more than 47,000 staff across the UK.
The bank said that at the same time as it was cutting the more than 3,000 jobs, it was creating 2,017 new positions, and that it "expected that the majority of these roles will be filled by displaced employees".
As a result, HSBC predicts that the eventual number of job losses will be reduced to 1,149.
Strike considered
"I understand change is always unsettling, particularly for those directly affected," said HSBC's chief executive, Brian Robertson.
"We are doing everything possible to offer impacted employees opportunities from the many newly created roles, and I'm confident a significant majority will remain with the bank."
The Unite union said it may ballot its members at the bank for industrial action.
"HSBC is making staff suffer in the search for ever greater profits. The bank's behaviour is a disgrace," Unite's national officer, Dominic Hook said.
"After making proposals to slash pensions, holidays and sick pay, the bank is now slashing even more jobs.
"Staff are at the end of their tether and we will be asking them in due course if they are prepared to take part in a strike ballot to oppose this unprecedented attack by this very profitable bank."
The jobs are going at HSBC as the bank streamlines its number of customer advisers.
Under changes that come into force in June, HSBC's wealth management team members, who offer advice or support to customers with £50,000 or more of savings or investments, and its commercial advisers, who advise business owners, will be combined with the bank's main retail banking advisory business.
The bank said: "This integration of advisers means the roles of commercial financial advisers will be demised."
HSBC said the changes would mean a better service for customers.