Eurozone output still falling, PMI survey indicates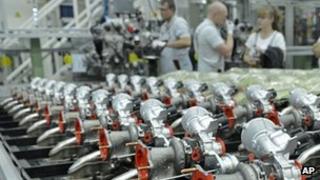 Activity in the eurozone's services and manufacturing sectors continued to fall in April, a survey has indicated, with even German output declining.
Markit's composite purchasing managers' index (PMI) for the eurozone remained at 46.5 in April, unchanged from the month before.
A reading below 50 indicates shrinking activity.
The survey suggested that German private sector output fell for the first time since November last year.
Chris Williamson, chief economist at Markit, said: "Previously, we've seen Germany expand while other countries have contracted - notably Spain, Italy and France.
"Now it seems those contractions are being accompanied by a downturn in the largest economy, Germany, and that will no doubt act as a drag on growth."
There was slightly better news from France, where the PMI survey indicated that the private sector contracted at a slower rate in April than before.
Policy change?
The European Central Bank (ECB) is meeting next week for its regular monthly monetary policy meeting, with eurozone interest rates currently at 0.75%.
Mr Williamson warned that while the eurozone PMI figure had not worsened in April, there were signs that things could get worse in the future.
"The forward-looking indicators suggest there's risks to the downside for the contraction to gather pace," he said.
The eurozone's economy is contracting, and shrank by 0.6% in the last quarter of 2012.
Ben May, European economist at Capital Economics, said the survey could act as a nudge to the ECB to provide some further stimulus measures.
"[There are] further signs that the improvement in market sentiment alone will not be enough to drag the eurozone out of recession," he said.
"Given this, and the fact that inflation looks set to remain subdued, pressure on the ECB to provide additional policy support looks set to increase."
Earlier on Tuesday, a survey by HSBC indicated that growth in China's manufacturing sector slowed in April.
The preliminary reading from HSBC's PMI survey fell to 50.5, from 51.6 in March, with a drop in new export orders blamed for the decline.
The findings add to concerns about the country's economic recovery. China's growth rate slowed to an annual pace of 7.7% in the first three months of the year, down from 7.9% in the previous quarter.