EDF cuts spending on planned Hinkley nuclear power plant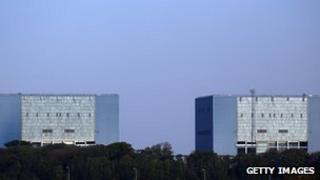 EDF is reducing its spending on its planned new nuclear power plant at Hinkley Point in Somerset.
The company said it is refocusing its activities to control costs and that there will be a reduction in the number of people working on the project.
Negotiations with the government over how the huge project will be funded are continuing. The company said progress is being made.
EDF had hoped to conclude negotiations by the end of 2012.
EDF said that its decision "reflects its priorities ahead of securing the financing necessary for the project".
"In this context much activity including further detailed pre-construction engineering work will continue ahead of the later construction phase," it said in a statement.
Jobs disappointment
"Negotiations with the UK government to agree a contract for the electricity from Hinkley Point C are making progress."
The company has been spending around £1m a day on the project. So far Hinkley C is thought to have cost around £1bn.
The project was estimated to create between 20,000 and 25,000 jobs during construction and 900 permanent jobs once in operation.
Unions expressed their disappointment at the news.
The GMB union warned that delays could now derail what it described as an "essential infrastructure project", which would be "a disaster" for employment.
EDF has said that the project would generate taxes equivalent to a few percentage points of what the entire financial sector yields for the exchequer.
It is negotiating with ministers over what it can charge for the electricity Hinkley generates for decades to come.
But environmental groups have been protesting against the plan.
They have raised concerns over the potentially high price for electricity the government will agree to in order to get the nuclear plant built, and over the issue of nuclear waste.