UK to sell stake in Urenco nuclear fuel firm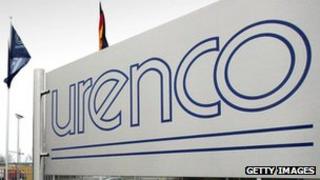 The UK government is preparing to sell its one-third stake in Urenco, the world's second-largest provider of nuclear fuel.
The uranium enrichment company is estimated to be worth about 10bn euros ($13bn; £8.6bn).
Business and Energy Minister Michael Fallon said the "time is right" for the sale, adding it made "good commercial sense".
Several buyers are said to be interested in buying the stake.
They include French nuclear group Areva, the Canada Pension Plan Investment Board, and reactor builder Westinghouse.
The remainder of Urenco is owned by the government of the Netherlands, as well as by the German power companies E.On and RWE.
"The decision to proceed towards a sale comes after the government secured agreement from its Dutch and German partners," the UK's Department for Business, Innovation and Skills said.
As yet, no decisions have been taken with regards to how or when the sale will happen.
"Any sale will only be concluded if the government is satisfied that the UK's security and non-proliferation interests can be protected and that value for money is achieved for the UK taxpayer," the department said.
As Urenco owns top secret uranium enrichment centrifuge technology, which the authorities are eager to protect from falling into the wrong hands, all three countries would need to approve any sale of a stake.