Pub tenants get help under code of practice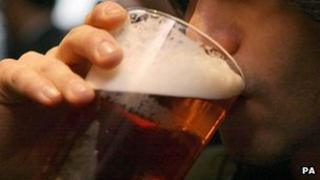 New proposals to help pub tenants struggling to pay rent or beer prices have been unveiled by the government.
They include a new code of practice and the backing of a "powerful" adjudicator after complaints about abuse of the "beer tie".
So-called "tied pubs" are required to buy supplies - often at high prices - from pub companies that own the pubs.
Half of the "tied pubs" in the UK earn less than £15,000 a year, said Consumer Minister Jo Swinson.
The Department for Business, Innovation and Skills said it hoped that the new proposals would help to save tenants £100m a year.
The code will apply to companies that own more than 500 pubs, to focus on an area of the industry where 90% of complaints are received, it said.
The adjudicator would have the power to enforce the code, investigate breaches and deal with disputes through possible sanctions and fines. The new proposals may also allow tied pubs to have independently picked guest beers.
Pubs under pressure
Business Secretary Vince Cable said: "We gave pub companies every chance to get their house in order. But despite four select committee reports over almost a decade highlighting the problems faced by publicans, it is clear the voluntary approach isn't working."
"Pubs are small businesses under a great deal of pressure, many of which have had to close. Much of that pressure has come from the powerful pub companies and our plans are designed to rebalance this relationship," he said.
Jo Swinson said the government was "committed to stamping out abuse of the beer tie and helping British pubs to thrive".
"It has been a huge concern of mine that pubs, often the hub of our communities, are closing down at an alarming rate. What is also shocking is that the figures show that almost half of tied pubs earn less than £15,000 a year, and struggle to make ends meet because of rising beer prices and rent.
"I have heard about a variety of unfair practices such as large unjustified increases in rent, and am clear that this sort of behaviour is not good enough.
"These proposals will put a fairer system in place and will make sure that tied pubs are no worse off than free-of-tie pubs," she added.
Pubs 'quango'
Dave Mountford, a branch secretary for GMB, the union for tied tenants, said: "The test for tied tenants is whether this code is drafted in such a way that it will bring down rents to the same level as free-of-tie pubs."
"GMB want to ensure that pub [chains] are not allowed to put up rents by the backdoor by overcharging for products tenants are tied to buy from them."
A spokesman for Punch Taverns, the largest bar and pub operator in the UK, said: "We will be looking at the contents of today's announcement in detail, but we remain confused by the government's attitude to pubs.
"This year's Budget provided much-needed support to Britain's pubs, but the government is now proposing a state-backed pubs quango.
"A founding commitment of the Coalition was to reduce regulation, but ministers now seem intent on wrapping Britain's pubs in red tape."