Lufthansa strike causes flight cancellations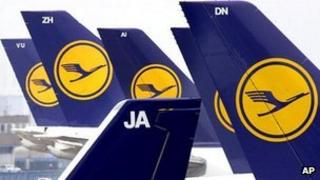 German airline Lufthansa has cancelled the majority of its flights scheduled for Monday due to a strike over pay.
The airline said only 32 of its flights would run as planned, out of more than 1,700 originally scheduled.
Flights to and from London, Manchester, Birmingham, Newcastle, Glasgow, Dublin, Aberdeen and Edinburgh will be hit. German airports affected are Frankfurt, Munich, Dusseldorf and Hamburg.
The airline said the strike, the second in two months, was uncalled for.
"It's completely out of proportion," a Lufthansa spokesman was quoted as saying by the Reuters news agency.
"Especially given that four further dates for pay talks had already been agreed upon."
Only 20 of its planned 1,650 short-haul flights are to go ahead, while 12 of its 73 scheduled long-haul flights will do so.
Common tactic
Ground staff have called a one-day strike amid an ongoing pay dispute with the airline.
Like many airlines, Lufthansa is looking to cut costs in the face of stiff competition from low-cost carriers and big Gulf airlines, as well as rising fuel prices.
Last week, Lufthansa rejected union demands for a 5.2% wage increase over the next 12 months.
Strikers are also looking for guarantees over job cuts.
Unions staged a similar one-day strike last month. Short "warning strikes" are a common tactic among German unions, designed to put pressure on wage negotiations.
In a statement on its website, Lufthansa said passengers should expect "massive" flight cancellations and delays that will start to affect long-haul flights from Sunday.
The airline said it was offering free alternative bookings.