Lending to business falls by £4.8bn, Bank of England says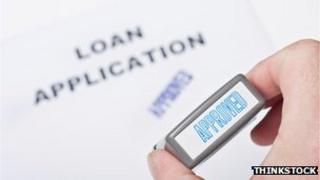 Lending to businesses in the UK has fallen by a further £4.8bn in the three months to February, the Bank of England has said.
That represents a fall of 4.4% in loans to companies and small firms from the same period a year earlier.
The Bank also said that the mortgage market was "broadly unchanged".
Figures from the Council of Mortgage Lenders (CML) paint a similar picture, with lending in the first quarter of 2013 the same as last year.
Lower lending
The Bank of England's figures show that loans to construction firms and housebuilders were particularly weak.
Lending to the real estate sector fell by 5.3% in December 2012 from a year earlier, the sharpest drop for more than three years.
The Bank of England also said that those banks participating in the Funding for Lending Scheme (FLS) were lending less money overall to households and businesses in the second half of 2012 than they were in the previous six months.
FLS was launched in August last year. The idea is that banks and building societies can borrow money from the Bank of England at low cost, providing they pass it on to businesses and individuals.
The scheme has been credited with helping to lower the cost of mortgages.
It is currently due to end in January 2014, but in his March Budget, the Chancellor, George Osborne, said he was considering extending it beyond that date.
The Bank of England has previously said that it will take some time for FLS to feed through to business loans in particular.
Mortgages 'improving'
The Bank described mortgage lending over the thee months to February as "positive, though weak".
The value of such lending grew by 0.7%, quarter on quarter, according to the Bank.
The CML figures suggest mortgage lending in March was noticeably better than in February.
But the total value of mortgage lending in the first quarter of 2013 was £33.8bn, virtually unchanged on the first quarter of 2012.
Nevertheless the CML is convinced that the market is picking up.
"Conditions in the housing and mortgage markets continue to show signs of improving," said Bob Pannell, the CML's chief economist.
"The improvement in funding markets over the past year, reinforced by the incremental benefits of the Funding for Lending Scheme (FLS), has been the key catalyst behind stronger housing activity," he said.