Eurostar credits marketing campaigns for revenue rise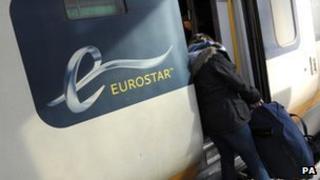 Promotional campaigns helped Eurostar to maintain revenues during the first three months of this year.
The high speed rail service between the UK and mainland Europe reported a 1% rise in revenues, up to £213m from £211m in the same period last year.
Business travel struggled due to lingering economic uncertainty throughout Europe, the company said.
But promotions such as one offering 150,000 seats from £59 meant leisure bookings soared.
During the 13-day period in which the promotion ran, bookings exceeded the record set during the ash cloud disruption in 2010.
Marketing campaigns abroad also led to increased sales revenues and passenger numbers for travellers originating outside the EU.
Nevertheless, overall passenger numbers dipped slightly compared with last year. Eurostar said 2.23 million people used the service between January and March this year, compared with 2.24 million a year earlier.
The weather this year posed a significant challenge to the company. Eurostar services were suspended in March after severe snowstorms across north-western Europe.
"This is an encouraging start to the year in spite of the challenges posed by both the economy and the weather," said Nicolas Petrovic, chief executive of Eurostar.
"Our sales revenues have grown during a quarter which saw heavy snowfalls and some of the coldest temperatures on record in the south of England and northern France".