Rich Ricci, Barclays investment bank boss, resigns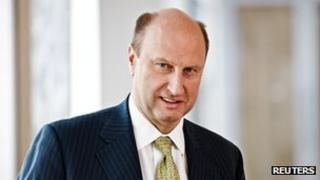 The head of Barclays' investment banking business, Rich Ricci, has resigned, the bank has announced.
The move follows the arrival of Barclays's new chief executive, Antony Jenkins.
The boss of the bank's wealth management business, Tom Kalaris, has also quit.
Both men played key roles under Bob Diamond, the former Barclays chief executive who left after last year's Libor rate-rigging scandal.
Mr Ricci gets a year's salary after departing, unless he lands another new job in the meantime.
Barclays declined to reveal his basic salary and pension package.
Mr Ricci, who has been with Barclays for 19 years, has often attracted controversy over his pay.
Despite waiving his bonus last year, he landed £18m from selling 5.7 million shares he gained as part of annual bonuses and incentives schemes in previous years.
He will be replaced by Eric Bommensath and Tom King, who will share the job as co-heads.
Barclays' Mr Jenkins said: "Today's changes will ensure we have the right senior team in place to deliver strategy and commitments we made on 12 February and build the 'go-to' bank."