Japan reports record annual trade deficit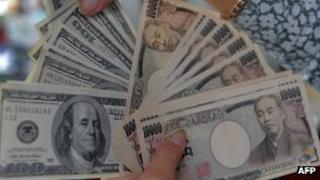 Japan, the world's third-largest economy, has reported a record trade deficit for the year to 31 March.
The deficit hit 8.17tn yen ($83.4bn; £54.5bn) as a slump in global demand hurt exports, while greater domestic consumption of fuel boosted imports.
A weak yen, which has dipped nearly 20% against the US dollar since November, also boosted the value of the imports.
Analysts said the deficit was likely to shrink in the coming months as the weaker yen will help Japan's exports.
The yen has dipped after policymakers introduced aggressive measures aimed at spurring a fresh wave of economic growth and stoking domestic demand.
Trade shift
Japan, which has traditionally been known for its exports, has seen a shift in its trade pattern in recent times.
It has seen its imports rise, driven mainly by an increased demand for fuel.
This was after most of its nuclear reactors were shut after the earthquake and tsunami in 2011 which damaged the Fukushima Daiichi nuclear plant and resulted in radiation leaks.
As a result, utility providers have had to turn to traditional thermal power stations to generate electricity.
These power plants need natural gas and coal to operate, resulting in a surge in imports of these commodities.
Meanwhile, its exports have been hurt by a slump in demand from key markets such as the US and Europe, while a territorial dispute has hurt sales to China.
That has seen it report a deficit for nine straight months.
Delayed impact
Policymakers have been hoping that their recent measures, which have weakened the currency, will help the country's exporters.
A weak currency makes Japanese exports more affordable to foreign buyers and also boosts profits of exporters.
However, analysts said that while a weakening currency has an immediate impact on the value of imports, it takes longer for it to help exports.
At the same time, exports are also influenced by global demand, which analysts said had remained subdued.
"The broad picture remains intact as the weaker yen is having more of an impact on boosting imports than exports, while the recovery in the world economy, particularly China, is tepid," said Takeshi Minami, chief economist at Norinchukin Research Institute in Tokyo.
"We'll need to wait at least until around summer before the weaker yen enhances price competitiveness of Japanese products abroad to boost exports."
There were some signs of recovery in the data for March, which showed a 1.1% increase in exports during the month, from a year earlier.
That was better than the 0.4% gain that many analysts had forecast.