Will Tesco be deposed as retail king?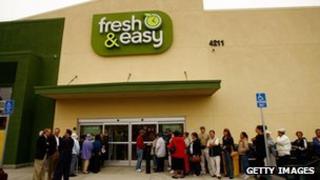 Tesco has probably had worse or more humiliating days. But not for a long time.
Pulling out of the US, with the abandonment of its Fresh & Easy venture, is costing it £1.2bn in money and probably as much again in loss of face.
Because of that loss, and the cost of revitalising sluggish British stores, profits have fallen dramatically - by 52% to £2bn before tax.
Even so-called underlying profits - which exclude a write-down of the value of property in the UK, a devaluation of businesses acquired in Poland, the Czech Republic and Turkey, and an increase in PPI compensation costs - have fallen 14.5% to £3.5bn.
Here is the thing: this is the first drop in reported profits at Tesco since 1993-94.
But how different the world was for Tesco 19 years ago.
Back then it was about to embark on a programme of expansion and sales promotion that would turn it into the UK's most powerful retailer (by far).
It was the challenger to the then leaders in both food and non-food, Sainsbury's and Marks and Spencer, and it was to squeeze them both till more than the pips squeaked.
Today, Tesco still looks for and enjoys growth in Asia, and online.
Unwieldy
For all the mess it made of the US, it is still an unusual British business and British retailer in having made a success of initiatives in parts of the world where retailing culture and practice are very different from the UK (although a recent bashing in South Korea, due to regulatory changes, shows there will always be downs as well as ups).
However, in the UK its huge market share now makes it look less like an unstoppable juggernaut and more like a massive tanker that's hard to manoeuvre quickly or easily.
And in recent years Tesco has become vulnerable to attack from discounters like Aldi, old foes such as Sainsbury's and newer ones like Amazon.
That said, there have been signs in the past year that Tesco's costly investment to improve service and stock in British stores has stabilised the business. There has been a return to very modest growth in underlying or like-for-like sales in the second half of 2012-13, in spite of recent weeks' headwinds from horse in the mince, although growth at Sainsbury remains faster.
But here is the big change at Tesco, with which it is gradually coming to terms.
For years its success was built on its entrenched view of itself as the upstart pretender, running rings around the old retailing establishment.
Today it is the retailing establishment, which makes it the target rather than the challenger - and all the more vulnerable in an economic climate that is likely to remain inclement for years.
So it is a big moment for the company.
The chief executive, Philip Clarke, has had to reconstruct Tesco at home and abroad at considerable cost - which is what is visible in today's announcement that profits have halved.
The legacy he inherited from his garlanded predecessor, Sir Terry Leahy, has been considerably less benign than he expected - although the big reconstruction decisions are Clarke's and he will stand or fall on whether they work.
If serious recovery doesn't materialise at Tesco this year, questions will start to be asked - just as they were in the 1990s about M&S and Sainsbury - about whether Tesco's time as king of retail is over.
Update 08:25 BST
By the way, Tesco's pre-tax profit of just under £2bn does not include the costs of withdrawing from the US or its US trading losses.
Its American venture is being treated, for accounting purposes, as discontinued, so all its losses are being charged below the tax line, in its profit-and-loss account.
What this means is that, after tax, Tesco barely made a profit at all.
Here is the astonishing number: Tesco's post-tax profit was a paltry £120m, down 95.7% from the previous year.