American Airlines US flights hit by computer glitch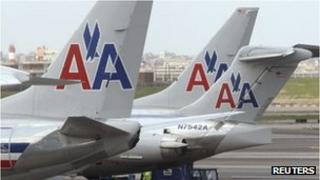 American Airlines had to ground all its flights across the US for several hours on Tuesday due to a fault with its computerised reservation system.
The carrier halted all departures from about 13:30 ET (18:30 GMT), saying that it was working ""to resolve this issue as quickly as we can".
American fixed the problem three hours later, but warned that it expected to see delays and cancelations continue for the remainder of the day.
About 900 flights were affected.
American said it would offer refunds and allow passengers to change flights for free.
The Federal Aviation Administration (FAA), which regulates civil aviation in the US, confirmed that American had asked to halt its flights while the problem was rectified.
One traveller at Dallas-Fort Worth, Julie Burch, told Associated Press: "Tensions are high. A lot of people are getting mad. I've seen several yelling at the American agents."