Lloyds and Halifax online banking hits problems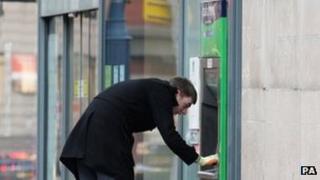 Customers of Lloyds Banking Group have been facing problems logging on to online banking, but the bank said the issue was now resolved.
Customers of Lloyds TSB and Halifax, which are part of the same group, reported problems accessing their accounts via the internet.
The bank apologised to customers for the inconvenience, but said that the problem had now been fixed.
Systems errors have hit a number of UK banks, including Lloyds, in the past.
In October, users of the banking group's debit cards, cash machines and the bank's online banking service complained of difficulties on the busiest day of the week for cash machine withdrawals.
In a statement following the latest problem, a Lloyds spokeswoman said: "For an hour this afternoon, we experienced an issue that affected some of our online banking customers.
"All of our systems were back up and running by 17:00 BST. We know our customers rely on us, and we apologise for the inconvenience we have caused them."
These issues were dwarfed by problems at RBS, NatWest and Ulster Bank last summer, when hundreds of thousands of account holders suffered disruption due to a huge computer failure.
That breakdown, and the backlog caused, is now the subject of an investigation by the Financial Conduct Authority.