Dish Network offers $25.5bn to buy Sprint Nextel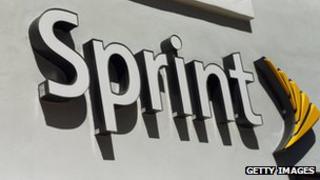 Dish Network, the second biggest US satellite television provider, has made a $25.5bn (£16.6bn) takeover bid for mobile phone firm Sprint Nextel.
Sprint has already received a $20bn bid for 70% of its shares from Japanese telephone company Softbank.
Softbank is currently seeking approval from US authorities for the bid.
The Softbank transaction, which was announced in October 2012, was seen as a way for Sprint to strengthen itself against its rivals, AT&T and Verizon.
'Credible' offer
Colorado-based Dish - which has more than 14 million subscribers - said its offer consisted of $17.3bn in cash and $8.2bn in stock.
Sprint shareholders would receive $7 a share, which is 13% higher than its closing price on Friday of $6.22. This includes $4.76 per share in cash and 0.05953 Dish shares for every Sprint share.
"The offer from Dish appears credible since it has the financing lined up and can justify a higher price than Softbank's offer because of the synergies with its existing operations in the US," said Nick Brown, a telecoms analyst with Espirito Santo investment bank.
"We believe Dish has been trying to get into mobile for a while. There have been noises that it was interested in Metro and T-Mobile as well."
Dish chairman Charlie Ergen said in a letter to James Hance, his counterpart at Sprint: "Dish has significant experience structuring and consummating strategic transactions and only needs to complete confirmatory due diligence, which we believe can be done quickly with your cooperation."
Sprint has so far declined to comment.