UK construction output remains weak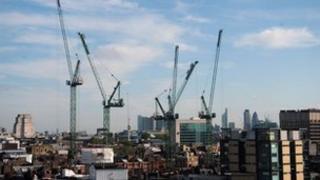 The UK's construction industry remains weak despite signs of a recovery, official figures suggest.
Figures from the Office for National Statistics (ONS) show output in the construction industry rose 5.5% in February from the month before.
But output was still 7% lower than February last year - a sign of a continuing weakness in the sector.
Output for the three-month period from December to February was down nearly 9% compared with a year ago.
Construction accounts for just 7% of the UK economy, but the sector's troubles have been a drag on growth.
Last year, its poor performance was blamed for helping to push the economy back into recession.
Industry surveys continue to paint a negative picture. The closely watched Markit/CIPS purchasing managers' index suggests the construction sector contracted for a third month in a row in March.
The UK's economy shrank by 0.3% in the last three months of 2012, and if it contracts during the first quarter of this year then it will be back in recession for the third time in five years.