Infosys shares slide as revenue forecast disappoints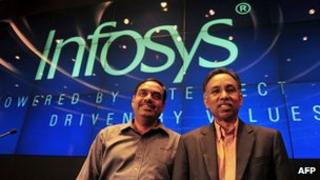 Shares of Infosys, India's second-largest software firm, have dropped sharply after its growth forecast for the current financial year fell short of market expectations.
It shares fell more than 18% to 2,385 rupees on the Bombay Stock Exchange.
Infosys forecast revenue growth of between 6% and 10%, but most analysts had expected a rise of nearly 12%.
The firm also reported a net profit of 23.9bn rupees ($438m; £285m) for the January to March quarter.
That compares with a net profit of 23.2bn rupees a year earlier.
"The forecast looks quite conservative, which is a concern," said KK Mital, chief executive for portfolio management services at Globe Capital.
"Even mid-cap companies are expected to perform better than this."
India's software firms, which enjoyed robust growth over past decade, have seen their growth rates slow in recent times.
They have been hurt by an economic slowdown in key markets such as the US and Europe.
Infosys warned that the global economic climate remained challenging, adding that it expected its profit margins to be under pressure in the short term.