Former KPMG senior partner charged over insider trading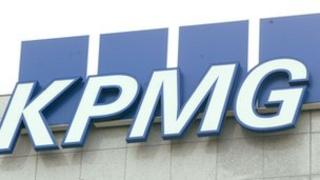 US authorities have filed criminal and civil charges against a former senior partner at accountancy giant KPMG over alleged insider trading.
It is claimed that Scott London passed information to a golfing friend, who then traded on the share tips.
KPMG resigned earlier this week as auditor to US companies Herbalife and Skechers after claims about its Los Angeles-based partner emerged.
Investigators reportedly tape-recorded Mr London passing on information.
According to the complaint filed in a Los Angeles court, Mr London told Bryan Shaw about a merger between KPMG's client RSC Holdings and United Rentals.
He also told Mr Shaw, a jeweller, about a takeover of Pacific Capital Bancorp by Union Bank, according to the charges.
In return for the information, Mr London allegedly received cash and jewellery.
It is thought that the authorities were first alerted to possible wrongdoing when Mr Shaw's stockbroker noticed unusual share trading patterns.
KPMG said on Wednesday that as soon as the allegations came to light "the partner was immediately separated from the firm".
It added: "This individual violated the firm's rigorous policies and protections, betrayed the trust of clients as well as colleagues, and acted with deliberate disregard for KPMG's long-standing culture of professionalism and integrity."