Roche sales boosted by Tamiflu demand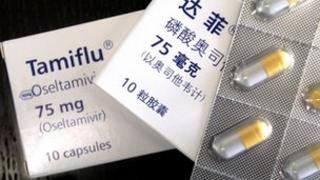 Swiss drugmaker Roche has reported a 5% rise in sales for the first three months of the year, helped by strong demand for its flu treatment, Tamiflu.
Total sales hit 11.6bn Swiss francs ($12.4bn; £8.1bn) in the quarter.
Tamiflu sales rose during a heavy flu season in the US, and there was also strong demand for Roche's cancer drugs.
"We got off to a very good start in 2013 due to strong organic growth," said Roche chief executive Severin Schwan.
During the first three months of the year, Roche launched two new drugs to fight breast cancer, Kadcyla in the US and Perjeta in Europe.
The Basel-based firm expects its full-year total sales to grow at much the same rate as 2012, when they rose by 7%. Roche also said it expected to increase its share dividend this year.
"Based on the first quarter results, I am confident we will meet our full-year targets," Mr Schwan said.