Yum Brands says KFC sales in China hit by bird flu scare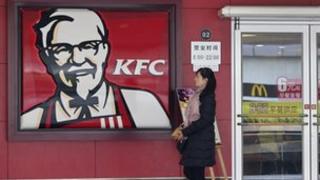 The parent company of KFC has said sales had fallen in China because of concerns over a new bird flu outbreak.
Yum Brands said publicity associated with Avian flu in China has had "significant, negative impact on KFC sales", without giving figures.
The new strain of bird flu has already led to nine deaths, and made dozens ill.
China is a key market for Yum, generating more than half the company's revenue.
US-based Yum said it would continue to educate consumers that cooked chicken is safe to eat.
Yum Brands was already struggling to recover after allegations its suppliers were giving chickens unapproved levels of antibiotics.
That report caused sales to drop significantly and continues to hurt the company.
In March, Yum said sales at restaurants in China open for at least a year fell 13%. That includes a 16% drop at KFC.
In January and February the company saw falls of up to 20%.
Yum, which also owns Pizza Hut and Taco Bell, is the largest fast-food operator in China with about 5,300 locations.