HBOS bosses remain under fire as Sir James resigns posts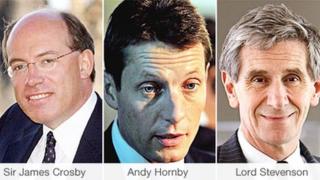 Past HBOS figures are coming under more pressure after the bank's ex-chief Sir James Crosby quit his current posts and offered to give up his knighthood.
Blame for the bank's collapse may even extend to its auditors, KPMG.
The man who headed KPMG at the time is now boss of the City watchdog the Financial Conduct Authority (FCA).
Shareholder action group Pirc has written to the Financial Times, asking that John Griffith-Jones step down from the FCA while KPMG's role is probed.
Sir James Crosby presided over the creation of the giant bank when it was formed in 2001 from the merger of the Bank of Scotland and the Halifax. He was succeeded in 2006 by Andy Hornby.
HBOS collapsed during the financial crisis and had to be rescued by Lloyds, which itself then needed a £20bn rescue from taxpayers.
The renewed search for individuals to blame for its downfall follows a damning report last week from the Parliamentary Commission on Banking Standards, in which the bank's two leading executives and its chairman, Lord Stevenson, were severely criticised.
In the wake of that, Sir James was asked to resign his post as adviser at the private equity firm, Bridgewater.
Sir James has said he was "deeply sorry" for what happened at HBOS. He has also attempted to make amends by resigning as independent director of the giant catering firm, Compass Group, and offering to forgo around a third of his £580,000 annual pension.
Defence
The Liberal Democrat peer, Lord Oakeshott, has said it is "not sustainable for Andy Hornby not to follow".
Mr Hornby is currently chief executive at the betting chain Coral, which gave a ringing endorsement of his performance: "Coral is performing extremely well at present, which coincides with Andy's tenure as chief executive. We are delighted with the job he is doing for the company and he has the full backing of the board."
City commentator Terry Smith, chief executive of inter-dealer broker Tullet Prebon, also spoke up for Mr Hornby.
He told the BBC: "He only became chief executive in 2006 at HBOS and by then, I rather suspect that the die was cast and it was too late for him to make any significant change.
"It was too late by then. This particular juggernaut was heading towards the iceberg and whoever was appointed couldn't possibly have changed it."
Pirc's managing director, Alan MacDougall, pointed to the role of its auditors.
He said the collapse of HBOS raised "significant issues about the conduct" of KPMG and its then chairman, John Griffith-Jones.
Despite the bank's flawed business model which led to its failure, it received a clean bill of health from KPMG.
Mr Griffith-Jones, the chairman of the FCA, was also present at its predecessor, the Financial Services Authority's board meeting when it decided not to look into KPMG's professional services for HBOS.
'Investigate'
Mr MacDougall's letter to the Financial Times said: "In Pirc's opinion, both the presence of Mr Griffith-Jones at the meeting and the scope agreed at the meeting raise more questions.
"It cannot be right that the chairman of the new FCA has any link with the second-largest UK banking collapse in history. He should at least step down until the performance of KPMG in the audit of HBOS, and accounting standard setting, has been properly and independently investigated."
The FCA has defended its appointment of Mr Griffith-Jones as its chairman following the calls for his resignation.
It also pointed out that Mr Griffith-Jones did not sit on the board sub-committee of the FCA tasked with overseeing the HBOS report.
Lord Stevenson is currently a non-executive director of the booksellers Waterstones. His title predates his time at HBOS.
Business Secretary Vince Cable has already launched moves which could lead to three former directors of HBOS being banned from serving as company directors.
Mr Cable wants to see if there is enough evidence to start disqualification proceedings against Mr Hornby, Lord Stevenson and Sir James.
"I've asked my department to look at the evidence to see if there's a case for disqualification of some of the individuals involved as directors," Mr Cable said.
"James Crosby has now renounced his own knighthood - he's done the right thing.
"I think people will respect the fact that he's taken that decision on his own voluntarily."