Qatar offers Egypt $3bn lifeline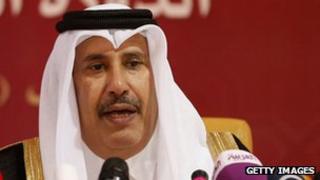 Egypt has been offered an economic lifeline by Qatar, which will buy $3bn worth of its bonds.
The cash will come in addition to a previously promised $18bn investment in Egypt from Qatar by 2018.
Qatar will also supply Egypt with natural gas when needed, Prime Minister Sheikh Hamad bin Jassim al-Thani said.
Earlier, Egypt's planning minister Ashraf El-Araby said it was "very possible" that the country would ask the IMF to lend it more money.
Egypt has already asked the International Monetary Fund for a loan of $4.8bn
"It's very possible that we will increase the request but so far we are talking about $4.8bn," Ashraf El-Araby said.
Egypt is burdened by fuel shortages and a currency crisis, which have pushed inflation towards 9% from just over 6% in January, including a big rise in the price of food.
The Egyptian pound has depreciated sharply and the country's foreign reserves have fallen to $13.4bn, enough to pay for just three months of imports, according to economists.