Brussels warns on Spanish and Slovenian 'imbalances'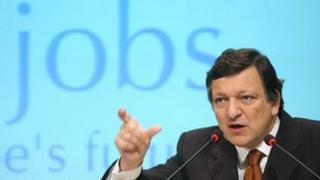 The European Commission has warned that Spain and Slovenia must quickly tackle the imbalances in their economies.
Spain has already had its banking system bailed out and Slovenia is widely expected to become the next to ask for for a debt rescue.
The Commission said the pair are the worst of the 13 European Union countries currently under review.
It called on Spain to deliver a "decisive" reform programme by the end of the month.
The imbalances in debt, unemployment and growth were doing long-term damage, with more than half of under-25s unable to find a job, the Commission said.
"Our (European) citizens are still paying the price for the unchecked development of imbalances in the past," it said in a statement.
'Urgent action needed'
Brussels highlighted the plight of banks in Slovenia by saying that "urgent policy action is needed".
The new Slovenian prime minister, Alenka Bratusek, insisted on Tuesday that her government was already working "day and night" to save the country's banking system.
The Commission said that the other 11 European Union countries experiencing "macroeconomic imbalances" to a lesser degree than Spain or Slovenia were Belgium, Bulgaria, Denmark, France, Italy, Hungary, Malta, the Netherlands, Finland, Sweden and the United Kingdom.