Turkish Airlines to buy 95 new Boeing planes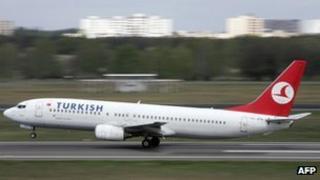 Turkey's national carrier Turkish Airlines is to buy 95 planes from US aircraft maker Boeing.
The airline said it would buy 20 planes in 2016, 20 in 2018, 15 in 2019, 30 in 2020 and 10 in 2021.
It said the purchases were made to meet a need for narrow-body planes, adding that 70 of the orders were firm ones, and 25 were options.
The orders are for 20 of the B737-800 aircraft, 65 of the B737-8 MAX model and 10 of the B737-9 MAX plane.
Boeing said the list price value for the 70 firm orders was $6.9bn (£4.5bn).
Last month, Turkish Airlines said it would buy 117 narrow-body planes from Boeing's European rival Airbus between 2015 and 2020.
Of these 82 are firm orders, and the carrier has options to buy a further 35 aircraft.
The airline is pursuing an aggressive growth strategy as it targets a larger share of the global aviation market.
The airline carried 39 million passengers last year and expects to reach 46 million this year, growing to 90 million by the end of 2020.
It hopes to generate annual sales of $18bn (£11.75bn) within seven years. Last year, it reported sales of nearly $8bn.