Asian Development Bank forecasts fragile 2013 recovery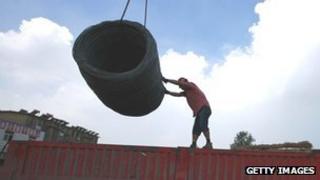 Asia's emerging economies will pick up in 2013 but the recovery will remain fragile, according to the Asian Development Bank (ADB).
The Manila-based lender said that worries persisted around the eurozone crisis and political tensions in Asia.
But it said that positives included China's economic rebound and strength in countries such as Indonesia.
It said GDP for developing Asia, which covers 45 nations, would grow by 6.6% this year and by 6.7% in 2014.
'Vulnerable'
The group of developing Asian nations includes major emerging economies such as China, India and Indonesia,
Economic growth across the group slowed to 6.1% in 2012, the lowest rate since 2009 when it was 6%.
"Developing Asia's recovery phase remains vulnerable to shocks," the bank said in its Asian Development Outlook report.
"Strong capital inflows could feed asset bubbles. Political discord surrounding fiscal debates in the United States, austerity fatigue in the euro area, and border disputes in Asia could jeopardise macroeconomic stability."
It added: "Continued sluggishness in the United States, euro area, and Japan suggests that developing Asia must continue to shift toward more domestic demand and trade with emerging markets."
Indian 'potential'
The ADB forecast China's economy would expand by 8.2% this year, up from 7.8% last year, on the back of strong domestic demand and better export performance.
It comes a day after China's President, Xi Jinping, said the days of double-digit economic growth in the country were likely to be over.
Meanwhile, the ADB said South Asia's growth would rebound, with India's economy growing by 6% this year, up from 5% last year.
"India has considerable potential, but its future performance relies on resolving contentious structural and policy issues that inhibit investment," said the bank.