Claims management firms face stricter rules over PPI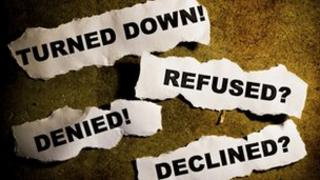 Unscrupulous claims management companies face new rules aimed at preventing them from unfairly cashing in on compensation payments.
Firms in England and Wales must now get written agreement from clients before pursuing claims and charging a fee.
Many have been randomly phoning and texting possible mis-selling victims, then signing them up on the basis of a verbal agreement.
This mostly affects payment protection insurance (PPI) mis-selling claims.
Licences withdrawn
The Ministry of Justice has announced the new measure, which will start in the summer, aiming to tackle firms that may charge substantial amounts up front, without customers being fully aware of what they were agreeing to.
Under the rules, the firms will need to obtain customer signatures on contracts before charging for assistance over financial mis-selling and personal injury complaints.
Some 260 firms were stripped of their licences in the last financial year by the Ministry for cold-calling potential customers without prior permission.
These were a minority of the 3,000 firms which are licensed to pursue claims, many of which charge fees of 30% of the compensation paid.
Mis-selling bill
These firms advertise widely on TV, newspapers and the internet, encouraging people to sue for personal injury compensation and for other losses.
Some use cold-calling, by phone or text, to drum up clients.
The banking industry's exposure to millions of claims for the past mis-selling of PPI policies has proved lucrative for the claims firms, which have encouraged tens of thousands of people to use their services, for a charge. However, individuals can make a PPI claim themselves for nothing.
Refunding these customers has cost the UK banks a collective total of more than £15bn.
Richard Lloyd, executive director of consumer group Which?, said: "Although these new rules are a step in the right direction, we think the government should be much bolder in cleaning up the claims industry.
"Upfront fees should be banned and those in charge of claims firms properly held to account for bad behaviour, with hefty fines imposed, licences revoked and individuals barred from running CMCs if they are found guilty of breaking the rules."
Separate changes mean that people who have complaints about claims management companies will be able go to the Legal Ombudsman for assistance.
The Ombudsman, unlike the Ministry of Justice, has the legal power to award compensation to consumers if appropriate.